Le design thinking est une méthodologie issue de l'industrie et basée sur l'empathie et l'intelligence collective, elle peut être utilisée dans l'enseignement supérieur pour favoriser un apprentissage en profondeur. Pédagoscope en parle avec le Dr. Richard-Emmanuel Eastes, responsable du centre d'appui au développement académique et pédagogique (SADAP) de la Haute Ecole spécialisée de Suisse occidentale (HES-SO)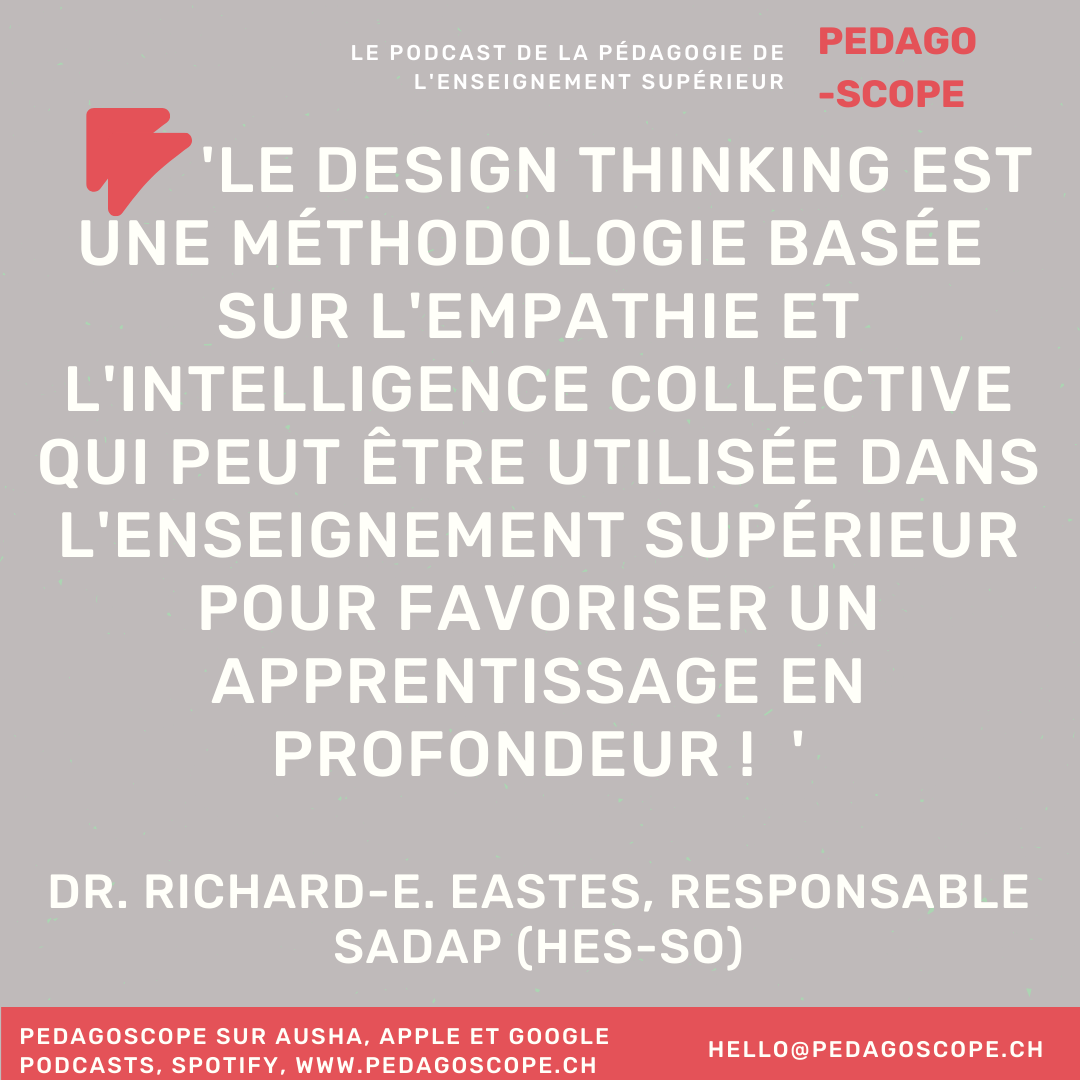 Enseignement supérieur et design thinking
Le design thinking est une méthodologie de conception et, plus largement, de recherche de solutions.Cette technique peut être employée dans beaucoup de situations d'innovation et de secteurs d'activités.
Principes-clés de la "pensée design"
1.Collaboration : s'appuyer sur l'intelligence collective
2.Empathie : identifier le besoin avant de d'imaginer la solution
3.Prototypage : expérimenter, tester
4.Feed-back : rechercher activement les retours des utilisateurs
5.Itération : recommencer !
Application à l'enseignement supérieur
Management de projets et d'équipes
Conception des programmes de formation
Réalisation de locaux et d'équipements pour la formation
Conception d'enseignements adaptés aux besoins des étudiant·es
Utilisation en tant que méthode d'enseignement
Ouvrage et liens pour aller plus loin
Dam, R. & Siang, T. (2019) What is design thinking and why is it so popular?
www.interaction-design.org/literature/article/what-is-design-thinking-and-why-is-it-so-popular – Last verified 12.06.2019
Dreser, M. (2017) Design Thinking is dead, long live innovation!
https://futurice.com/blog/design-thinking-is-dead-long-live-innovation – Last verified 12.06.2019
Dubé, P. & al. (2014) Qu'est-ce qu'un Lving Lab ? Le livre blanc des Living Labs, InVivo & Umvelt, Montréal.
Garel, G. & Mock, E. (2016) La fabrique de l'innovation, 2nd ed. Dunod éditions, Paris.
Jaouali, F. (2015) Apprendre à construire des personas, We Users.
Kolko, J. (2015) Design Thinking comes of age
https://hbr.org/2015/09/design-thinking-comes-of-age – Last verified 12.06.2019
Labarthe, F & Francou, R. (2014) Guide de l'innovation centrée-usager, PACA Labs.
Liedtka, J. & Ogilvie, T. (2011) Designing for Growth, a design thinking tool kit for managers, Columbia Business School Publishing.
Norman, D. (2013) Rethinking Design Thinking
www.core77.com/posts/24579/rethinking-design-thinking-24579 – Last verified 12.06.2019
Osterwalder, A. & Pigneur, Y. 2011) Business Model Nouvelle Génération, Pearson, Paris.
Osterwalder, A. & Pigneur, Y. (2015) La méthode Value Proposition Design, Pearson, Paris.
Ries, E. (2012) Lean startup, Pearson, Orléans.
Sanders, E. & Stappers P. (2007) Co-creation and the new landscapes of design
https://doi.org/10.1080/15710880701875068 – Last verified 12.06.2019
Sloltenberg, C. (2008) The Library's voice, a guide to user-driven innovation, Strong Bright Hearts, Aahrus.
Tayler, C. (2018) Oops ! L'innovation n'est pas un hasard, Weblaw Editions, Berne.
von Hippel, E. (1988) The sources of Innovation, Oxford University Press, New York.
von Hippel, E. (2005) Democratizing Innovation, the MIT Press, London.
Intro to Design Thinking, IDEO workshop (2015).
Hackaton planning in less than 10 steps – https://techcrunch.com/2012/03/31/hackathon-planning/ – Last verified 12.06.2019
Organising a hackathon – https://hackathon.guide – Last verified 12.06.2019
Autres sites sur design thinking & enseignement
https://www.lead-edu.ch/design-thinking-etablissements-scolaires/
https://www.cairn.info/revue-entreprendre-et-innover-2013-3-page-44.htm
https://blogs.ibo.org/blog/2017/10/03/la-pensee-design-dans-lenseignement/?lang=fr
https://eduscol.education.fr/numerique/tout-le-numerique/veille-education-numerique/archives/2016/mars-2016/design-thinking-education
https://www.vousnousils.fr/2019/04/29/design-thinking-la-nouvelle-methodologie-en-vue-a-lecole-622326